This content contains affiliate links. When you buy through these links, we may earn an affiliate commission.
There's something about comics as a medium that lends itself to learning about history. In fact, Rioter Carina Pereira explores this exact phenomenon in the essay "Why Graphic Novels Are Great for Learning About History." And it's not just graphic novels that have something to teach us.
Graphic memoirs are growing in popularity, and a lot of them focus not only on the author's personal life but also on historical events. Whether the historical graphic memoir is about a historical era or focuses on a significant event in history, these books use the medium to offer insights for readers to learn from.
Historical graphic memoirs can also be tremendously educational. After all, many of these writers tell their personal or family stories about historical events readers may or may not be familiar with. The unique form of the medium — that compelling combination of text and visuals — allows authors and artists to convey a lot of information in a small amount of space.
Tom Mullaney, a history professor at Stanford University, points to the many ways graphic novels can "accelerate" critical thinking and learning. Similarly, many librarians and teachers praise graphic novels' appeal to readers who have a hard time getting into prose novels or are short on time (in addition to helping young readers develop an array of important reading skills). And these things are true of graphic memoirs, too.
So, follow me down the rabbit hole and give some of these historical graphic memoirs a go. Many of the books on this list were written for adult audiences, but there are a couple of middle grade and YA books I couldn't resist including!
Historical Graphic Memoirs
Year of the Rabbit by Tian Veasna
This strikingly illustrated historical graphic memoir is Tian Veasna's memoir of his and his family's experiences during the Cambodian genocide enacted by the Khmer Rouge. It's an unusual take on memoir, given that when it starts the author hasn't been born yet, but that allows Veasna to set the stage and draw the reader in. We also get to meet his family and become invested in their journey. Throughout the book, readers are provided with all the details they need to understand this historical event regardless of how much prior knowledge they have. It's a captivating story of one family's experiences that'll most likely have you gnawing on your nails as you turn the pages to find out what happens.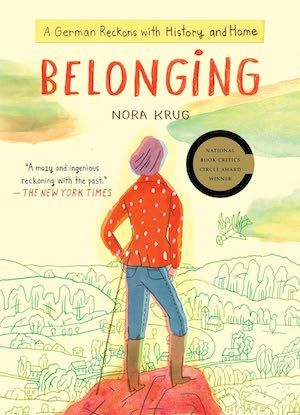 Belonging: A German Reckons with History and Home by Nora Krug
Belonging has a unique and engrossing format, almost more like an annotated and illustrated scrapbook than the fairly common comic format of many graphic memoirs. Krug's memoir is about her process of coming to terms with her family's involvement in the Holocaust. She was born in the late 1970s, and her parents weren't born until after WWII ended, but the memoir is about the work she does to figure out exactly what roles her parents' siblings and parents played in Germany during this horrific period of history. Krug's illustrations are accompanied by archival ephemera that pack a powerful punch.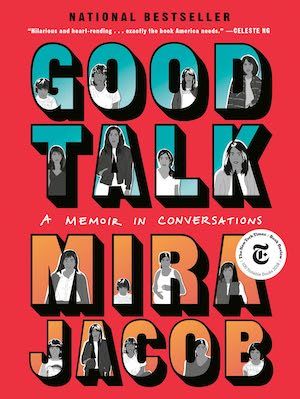 Good Talk: A Memoir in Conversations by Mira Jacob
As if the subtitle "A Memoir in Conversations" wasn't enticing enough, the fact that said conversations are between author/illustrator Mira Jacob and her 6-year-old son adds another layer. Because, well, in a book about race and ethnicity (among other things) in the contemporary moment, you just know the presence of a child is gonna infuse some humor into the hard conversations. I love that this book supplements these conversations with Jacob's own experiences as the child of immigrants, delivering a dual U.S. history that connects late-20th-century racism and the sociopolitical turmoil leading up to the 2016 presidential elections. This historical graphic memoir provides a powerful framework for thinking about race and sexuality in a moment during which it's critical we do so.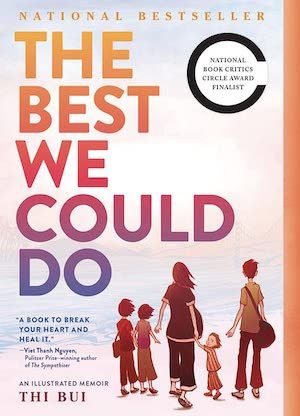 The Best We Could Do by Thi Bui
Bui's graphic memoir is about her family's experiences as Vietnamese refugees in the wake of the U.S. war in Vietnam…but that history is nestled within the frame narrative of the author's transition into motherhood. The red-tinged illustrations and straightforward text are incredibly evocative. This is another historical graphic memoir that takes on the author's family history — and larger international colonial histories. The catalyst for this deep dive into Bui's family history is her newborn son, and his presence adds to the importance of the intergenerational history at the heart of this memoir.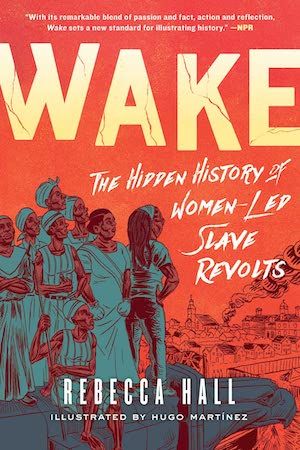 Wake: The Hidden History of Women-Led Slave Revolts by Rebecca Hall
Wake contains more fictional elements than the rest of the books on this list, combining graphic memoir with imagined details Hall is unable to locate through archival research. Nevertheless, it's Hall's memoir about her attempts to grapple with the ongoing impact of histories of enslavement for Black women in the U.S. Hall, whose grandparents were enslaved, hones in on the often untold histories of revolts led by enslaved women as a means of excavating their legacies of resistance and strength.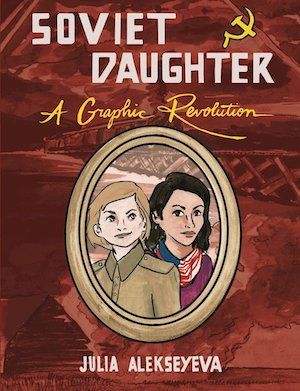 Soviet Daughter: A Graphic Revolution by Julia Alekseyeva
Julia Alekseyeva's book is a sort of intergenerational memoir. Her great-grandmother Lola secretly wrote a memoir of her experiences living in the USSR from its inception to her family's immigration in the 1980s. After her death, Alekseyeva's family discovered her handwritten memoir and discovered many previously unknown bits of family history. Soviet Daughter is Lola's memoir, a work of historical memoir about the USSR, and a graphic memoir featuring Alekseyeva's striking monochromatic illustrations.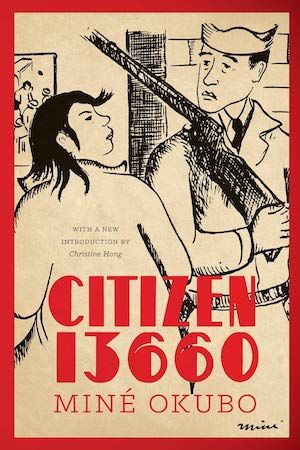 Citizen 13660 by Miné Okubo
Originally published in 1946, Citizen 13660 is artist and author Miné Okubo's memoir of her experiences in the U.S. Japanese incarceration camps. Born in California, Okubo and her family were among the more than 100,000 incarcerated in the aftermath of Pearl Harbor as a result of Franklin D. Roosevelt's Executive Order 9066. The graphic memoir's republication (sans the editorial censorship done to the original publication) features Okubo's deceptively simple illustrations alongside her straightforward text. This graphic memoir is an important work of literature and art.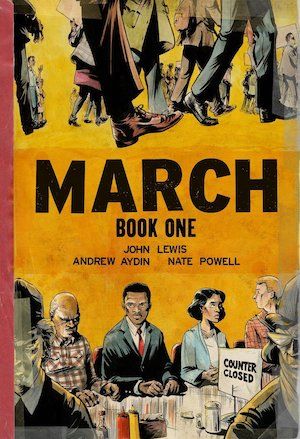 March by John Lewis, Andrew Aydin, and Nate Powell
The three-book March series follows civil rights activist and Congressman John Lewis's experiences as a civil rights leader. Threaded throughout the trilogy is a storyline that links the history of the civil rights movement with the events immediately leading up to Barack Obama's first term as president. Book 1 lays the foundations, covering Lewis's childhood and coming of age into adulthood. Book 2 builds from there, focusing on Lewis's activism with the Freedom Riders and involvement in such famous events as the 1963 March on Washington. Book 3 covers the next two years, examining the challenges the civil rights movement faced — both internally and externally — and depicting historical events such as Bloody Sunday. It's a powerful trilogy that gives readers a lot to think about both through its portrayal of historical events, but also the resonance it locates between past and present.