Seven Lions and his Ophelia Records stablemates packed Vancouver's Pacific Coliseum for a "STACKED" showcase on September 9th. If the sold-out show's success is any indication, the future is promising for the city's music scene.
Seven Lions and his pride packed Vancouver's 17,713-capacity Pacific Coliseum like a zoo. The venue was warm as a day on the safari. It wasn't uncomfortable, just noticeably busy. The enthusiasm was palpable and the turnout was motivating for anyone desiring bigger productions in a market desperate for them.
Vancouver has a reputation as a major city on the world stage, but the large-scale music scene has not reflected that in recent years. Osheaga is verging on 30 years of success in Montreal. Ontario continues to attract major electronic acts between Escapade and VELD. The mainstream music market around Vancouver is still recovering after the Pemberton and Squamish Valley music festivals torpedoed each other in the mid-2010s.
Seven Lions, Jason Ross, Andrew Bayer, Far Out and Au5 prepared a proper presentation that had the party going from open to close. Lions rewarded fans with quintessential songs including: "Another Me," "Don't Leave," "First Time," "Foolish of Me," "Freesol," "Island," "Need Your Love," plus tracks from his latest album, Beyond the Veil.
The artists preceding Seven Lions brought the fire with Andrew Bayer and Jason Ross receiving a lot of love from the crowd. Au5 and Far Out put a smile on many faces with standout tracks like "Snowblind" and "On My Own," respectively.
Shambhala and Bass Coast are the lifebloods of the British Columbia scene, giving the province a unique reputation for acclaimed homegrown festivals. But you're looking at eight and three-hour drives from Vancouver for Shambs and Bass Coast, respectively. FVDED in the Park—a primarily EDM and hip-hop festival located just outside Vancouver—was scrapped earlier this year. Contact Winter Music Festival is holding the coastal city by a string.
Calling Blueprint and Live Nation's "STACKED" (and its future iterations) the sole cure would be hyperbole, but it may be a sign the city is healing. A toast to Seven Lions, his friends, the team behind "STACKED" and a hopefully bright future for Vancouver's music scene.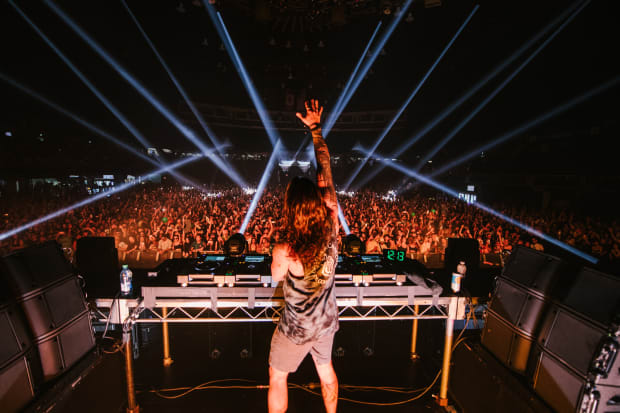 Follow Seven Lions:
Facebook: facebook.com/SevenLions
Twitter: twitter.com/SevenLionsMusic
Instagram: instagram.com/sevenlionsmusic
Spotify: spoti.fi/2Hv2cyM